Instead of just linking to pictures as usual, I thought it could be interesting to have a little discussion! So to suggest a topic - of all the pictures of women in ties you have seen over the years, do you have an absolute favorite/s, or one that illustrates your favorite style?
I myself, as you may know, prefer bow ties. I've said it before, but the outfit that's made one of the greatest impressions on me is the white tux Kim Basinger wore one evening back in 1990. Three things makes it special for me:
1. It's something she herself chose to wear  (not as a part of a job or movie role).
2. White tuxedos are for some reason more feminine (in my opinion at least), and a lavender bow tie is not exactly standard issue – another conscious decision on her part. (It's debatable whether it was a good choice, though, but not the point here! J )
3. It's one of the most beautiful women in Hollywood wearing it. Worn by someone less attractive it probably wouldn't have had the same effect on me.
Here's a couple of views – you may have seen these before, but I have given them an overhaul in Photoshop to improve the quality as much as possible.
I've used computer graphics to approximate a variation of the same look I wouldn't at all mind seeing on a woman – same principle, but with more conservative colors, dark pants and a vest for contrast. Can't remember seeing this combination in real life – at least not worn too well. (Princess Diana once attempted the look but the fit was not quite to my tastes.)
Another picture making a huge impression on me was this Playboy cover. Suddenly seeing it in the store made my heart skip a beat! Unfortunately, they don't wear those suits in the pictorial, but the front pic was enough to make it a must-buy. Photoshop has helped me restore it to almost the same quality as when I first got it many years ago!
I made a variation inspired by those outfits, but with an unbuttoned blouse instead of a bustier and a skirt beneath. Overall, I prefer this look to the white tux in the first example.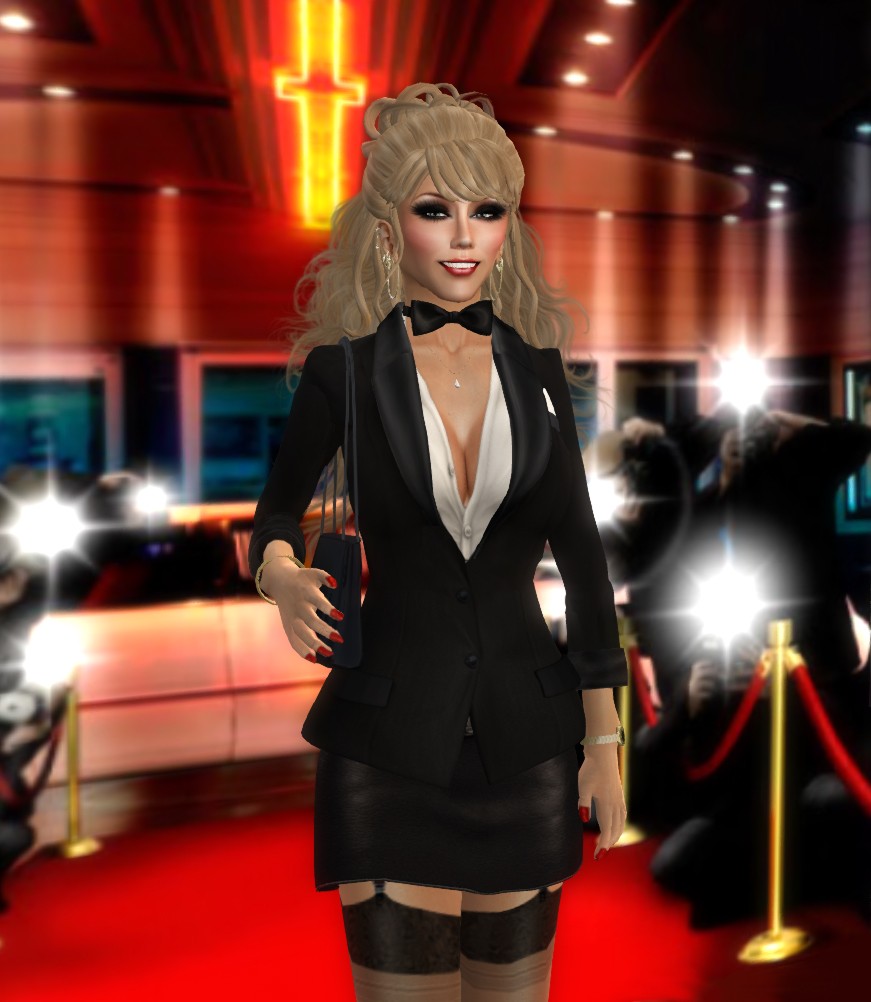 And finally, why not combine the two? If the dress code says "black tie", I think it would be perfectly acceptable for a woman to wear exactly that with her dress, and maybe a jacket over it for effect. I sure wouldn't protest if a lady showed up wearing this!

So in conclusion, I prefer to be able to see the band going around the neck, ensuring it's not a clip-on and emphasizing the tightness. But if the collar is a nice enough fit, I don't mind it being turned down. The same principle applies to regular ties for me, except that those usually look better with a classic band-obstructing collar. A good fit is essential for me – that's why I don't appreciate Ms. Basinger's later efforts as much: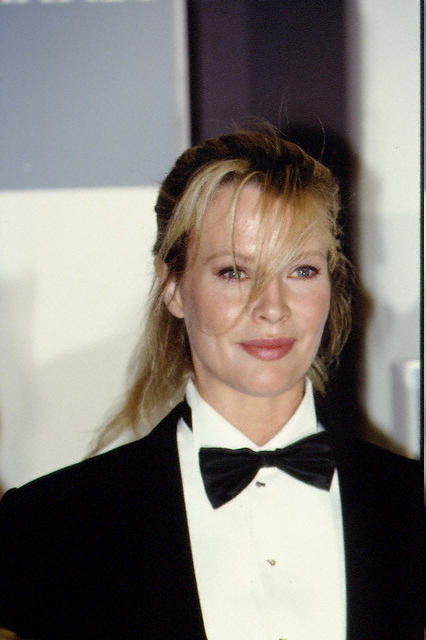 And if you do a Google image search for "Diane Kruger bow tie" you will see several examples of why I think she completely fails at wearing them – she seems to prefer her bows so loose as to technically be belts.

A +1 inch gap between the neck and the collar would, for a man, be indicative of real carelessness with clothes and be frowned upon. I know the rules are somewhat different for women wearing traditionally male clothing, but if they go to the actual trouble of dressing up like that, they should be held to the same standards. Gender equality is after all a very good thing. 

 Looking forward to hear your thoughts! I've perhaps written a bit much – hope you don't mind – so feel free to make much shorter replies! 
(Oh, and it appears that I very much prefer blondes with big hair. I wasn't completely aware of that until I saw it was what both examples and my computer model had in common!

)

Northerner




Posts

: 112


Join date

: 2011-01-11



Thank you for starting this amazing topic

First i will like to say something about your favorite outfits.
I like this outfit very much.I adore black and white combination specially with white jacket it look amazing i think.With this combination you can add or change some thinks i like that.
You can wear it with nice pants or with long skirt.Shirt can be with winged collar or regular (I prefer regular) Also for totally perfection i will add also pair of white glove to have ultimate formality.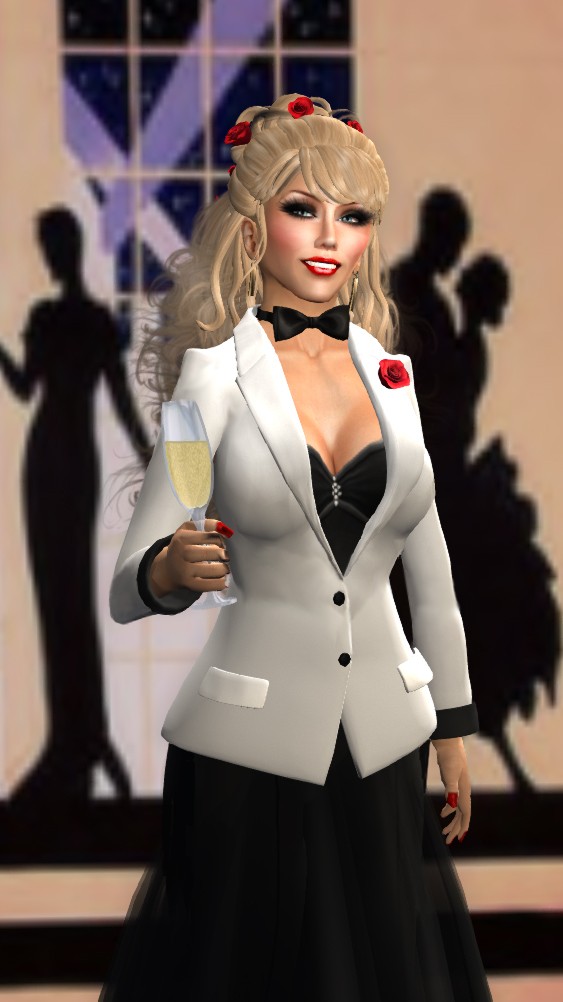 Second one is good fun to wear it.I like dress + jacket combination and + this bow tie it look cute.For some formal and in the same time fun occasion why not it is not something regular for me but sure why not.
About Kim Bassinger nothing to add i agree with all you have already say.
For me i do not have exactly the most favorite outfits but i can put some of them i like very very much.For example i like very much this Ann Hathway Tuxedo for Oscars.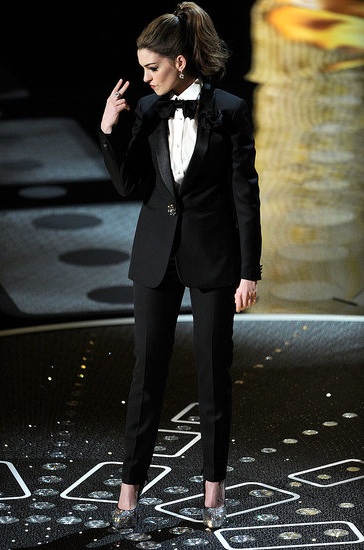 Why exactly that one? First of all it is one of the rare suits in witch you do not look like a catering or hotel staff.Also i like this big bow tie,sadly i know it is pre-tight one but for me it look much better that way it look more ladylike.And yes i like also bow ties much much more then regular ties.For me regular ties and nice but they look to manly for my taste.
This is only first outfits i like i will add some more later in the day.

Carla




Posts

: 107


Join date

: 2010-12-28





Similar topics
---
Permissions in this forum:
You
cannot
reply to topics in this forum