Well, been that time of the year again, lots of gentlemen in tails and about no ladies. For the first time, one of the invited female students (acting as ushers of a sort) chose to wear tails instead of a gown, to make a LBGT statement about how a garment doesn't belong to one gender etc. A laudable intention, but I would definitely advise her to find one in her own size and try to make it look at least a little classy for the occasion if she wants to be taken seriously.

http://www.svd.se/nyheter/inrikes/forsta-kvinna-i-frack-pa-nobel_7743750.svd
Also, Swedish television made a program series discussing the prizes and interviewing winners, and the 4 female presenters wore tails in the promo materials. Unfortunately, only two of them bothered to put on ties. What a trendy fashion statement, not.
http://www.goodbadgirl.se/wp-content/uploads/2012/11/anna-victoria-ebba-jessika-stor.jpg
Video: http://blogg.svt.se/ebba/2012/11/nobelstudion-nedrakningen-borjar-nu/
Finally, Swedish minister of culture Lena Liljeroth wore a tailcoat with her dress for last years festivities, but she neglected to include the interesting part. I've rectified this oversight in photoshop:D
Before: http://gfx.aftonbladet-cdn.se/image/14060525/478/normal/72db4bbb30f06/_NLX9235.JPG
After: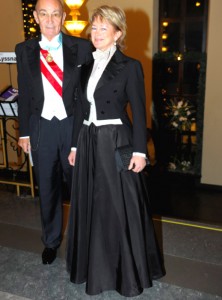 (Can't seem to find the original I used, so excuse the discrepancies in brightness and contrast!)

Northerner




Posts

: 108


Join date

: 2011-01-11



Great post!!!
Many thanks



Does anybody know how to download these clips?


tuxedo

Admin




Posts

: 286


Join date

: 2010-11-30


Location

: Germany



great pictures thank you


Carla




Posts

: 106


Join date

: 2010-12-28



Well, if you have Replay Media Catcher or Jaksta you can download the interview clip without problems. (I haven't kept it since I don't care much for ill-fitting suits:) )
The trailer is a bit harder - I've recorded it with Camstudio but I missed a setting and got no sound; I'm not bothered with missing that so if you're ok with a silent clip you can get it here:
http://rapidshare.com/files/1426372071/nobelstudion%20no%20sound.avi
Also, I remade that edit to get a pic with more natural lighting/sharpness; here it is.
Actually, I've seen a pic of this lady wearing a bow tie for real - it was for some event many years ago, she was wearing a yellow satin bow tie directly around her neck (shirtless, that is) with a yellow jacket and black overcoat if my memory serves. Unfortunately I haven't got it anymore....

Northerner




Posts

: 108


Join date

: 2011-01-11



I was looking for the trailer. Thank you very much.

I 100% agree with you about such ill-fitting suits


tuxedo

Admin




Posts

: 286


Join date

: 2010-11-30


Location

: Germany





Similar topics
---
Permissions in this forum:
You
cannot
reply to topics in this forum